How clean is your Email data?
We'll scan your email data for free and provide you
with a quality rating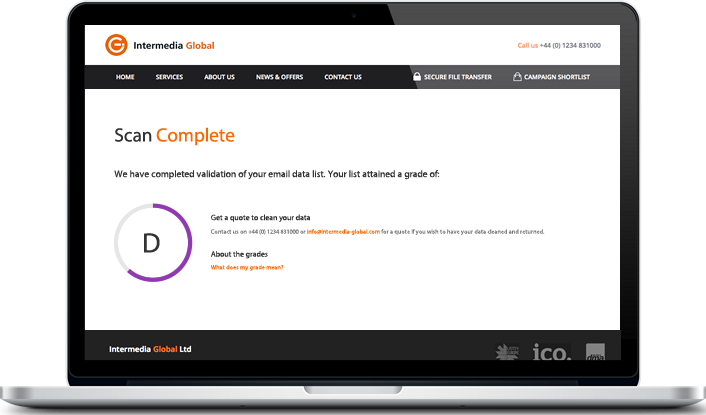 GET YOUR FREE QUALITY RATING
How clean is your Email data?
We offer a simple, speedy and comprehensive pre-send email screening solution on email marketing databases of any size covering all B2B, UK and International email addresses.
Our email validation tool offers a full quality report and data download service with validation flags and reasons is also available and we can remove and clean bad records if required. But in advance of any commitment, take advantage of a free quality rating report by uploading some sample data the report will be generated and viewable online.
Keeping email addresses clean and deliverable, whether they are business, consumer or international is an increasing problem. Email addresses change frequently or they are incorrectly entered on web sites and CRM systems making communication less effective than it should be.
Our Email validation tool helps eliminate bad records that will bounce and to flag duplicate addresses, ensuring the maximum volume reaches the intended recipient.
Why should I clean my data?
Maintain your reputation
Sending poor email addresses is damaging to both sender and receiver and has a negative effect on a company's reputation. Receiving multiple emails at the same email address reflects inefficiency or impacts on results given a lack of communication to customers whose emails addresses are incorrect and bounce. These records can be checked and corrected to optimise reputation and results
Reduce your marketing costs
All costs are considered when calculating the return on investment (ROI) of any campaign. Paying for the broadcast of email addresses that do not reach their destination is frustrating and can be avoided or minimised for sure.
Increased measurability
It is common to hear of 15-20% bounce rates within campaigns. Reducing these to an absolute minimum will offer true measureable statistics of open and clicks and sales against the actual volume that reached the intended recipients.
Features
Free initial list grading

We will scan and test the deliverability of your email marketing data for free based on a series of technical qualifiers, you are then given an accurate grade listing of the quality of data and the option to clean the list.

Low cost per record scan

We will automatically grade your email marketing database for free, if you decide to clean the list, you can take advantage of our low cost per record scan. We offer the same great service and price regardless of the size of your company and we use bespoke algorithms to ensure your data is clean as quickly as possible.

Fast and simple to use

Simply upload your email marketing data to our secure server, we will scan and grade your data so you can get an accurate sense of how deliverable and valid your email list is before sending it out.

Accurate results

Our comprehensive validation process uses similar methods to those used when sending email to ensure that our results are accurate. We maintain a rolling blacklist to ensure that any rogue addresses are filtered out and have a host of validation methods in order to keep each scan as fast as possible.
So how does it work?
#1

Upload your email data to our secure server

Upload your file in CSV format and upon completion we will start validating your email data immediately.

#2

We'll validate and create a quality grading report

Our comprehensive free validation process will provide you with a grade based on data validity and deliverability.

#3

If our full service is undertaken we will Download and return your clean data in the same format it was supplied

Your cleaned email marketing file will include all email addresses indicating which rows contain issues and issue type per entry.

#4

Reap the rewards from your clean data set and see immediate benefits from your next broadcast

With clean data you will have greater measurability of a campaigns success and lower your mail send costs!

Your data is safe hands
Our 256-bit encrypted SSL secure connection means the transfer of your data to our server is private and secure. Your data will be deleted from our servers automatically after 30 days and is never shared any third parties.